All is quiet around here so I thought I'd sneak in a blog post. Pops is out shopping, the Gman is at the trampolines with 5 boys, and Grandma is napping.
Happy belated Thanksgiving! I'm the least sentimental person I know, I missed a chance to send Thanksgiving Day wishes to the kind souls who take a moment to read my ramblings. I truly am thankful for you.
If you have never read five question Friday, you're in for a treat. This is where I reveal my deepest and darkest secrets or random things about me that you may have never known or cared to know about. It's like a little game, meet the blogger. If you have a blog and want to join, just click on the cute picture below. You will be taken over to Mama M.'s site where other bloggers link up. If you don't have a blog, I'll share mine with you. You can answer the questions in the comments section below. You may even win a prize like an iPad, a Hummer or a gently read book.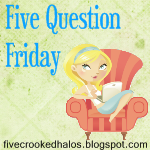 1.
Is there a special dish you prepare that you are famous for?
Sadly, no. I am one of those Moms who cook to feed the masses. I battle with special diets, picky eaters and major carnivores here. But I humbly admit, my split pea soup has been known to
be praised and adored by my friend Cathy.
2.
Did you go Black Friday shopping?
Sadly, no. I usually love to go. Since I am spending time in the land of chain stores this weekend, the possibilities are endless. But I am having a mental block. I'm only obsessed with what iPad I can get me for Christmas. Now that's really missing the point. My kids have above and beyond all that they need. Teens with jobs buy
their
own gizmos. Little guy is on a dinosaur kick, which is not the hot item sold on black Friday. So I'm taking a break this year.
3.
What are your strangest holiday traditions?
I don't really have strange traditions. Thanksgiving is different each year because we take turns hosting and traveling. But for Christmas, one thing that may seem strange is that my kids were never ones to wake up early on Christmas. It must be the homeschool thing. That works for the Gman and I since we usually stay up late wrapping.
4. Pecan or pumpkin pie?
Neither, I love apple pie. This year we had a wonderful pie called lemon surprise. It's like a lemon meringue with whipped cream instead of meringue. To answer the question, my boys love pumpkin, so we always have one.
5. When will you put up your Christmas tree?
Usually the first Sunday in December. Now this is where I do get sentimental. I fawn over the homemade ornaments and the decorations given to us by loved ones. I reminisce over the ornaments picked up on various vacations. I carefully fluff out the lovely FAKE tree with the lights already on it. WAIT! Now that's my strange holiday tradition, especially for those who live in the Northeast. I have a fake tree and I'm not ashamed.

Thanks for stopping by!