Because this is the year that Paperboy takes the SAT tests, he has been preparing using a tradition prep curriculum that covers all aspects of the test. When we were given the chance to try Vocab Videos, we were happy to try another method. Vocab Videos focuses on the English portion of the SAT tests, strictly vocabulary.
I reviewed the Small Educator Account for up to 20 students. That doesn't mean that I am small or that I have 20 students in my homeschool. This subscription is available for $74.99 for one year of access.
As a subscriber, Random, Paperboy and I have our own account, called our locker, where we can see what videos we have previously watched. We can take quizzes, access flashcards and print worksheets. I started watching the videos in order and then decided to jump around, since the titles of each segment were intriguing. I'm glad I did.

How does it work?
You pick an episode and it consists of 20 short clips. Each one focuses on a vocabulary word introduced and reinforced at the end of the clip. After each short clip, a narrator defines the word and uses it in a sentence. After watching the short episode, the students can take an online quiz to see how well they learned the words.
A companion
workbook
is available for $11.99.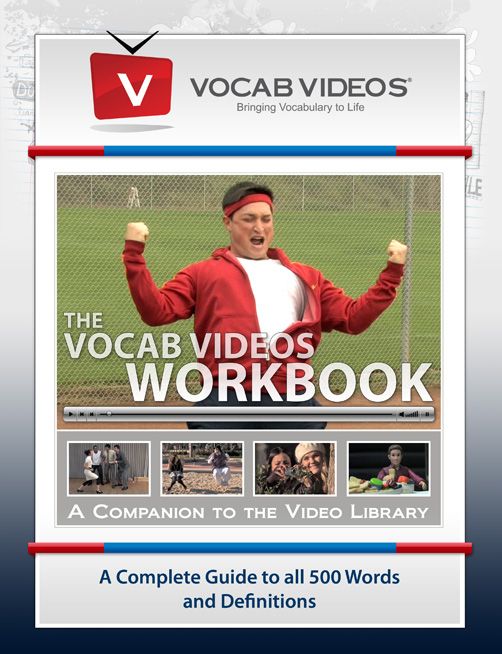 Our Thoughts
Their slogan bringing vocabulary to life, is accurate. It's just the part of life, I do not enjoy. The first episodes had content that annoyed me, but it did improve. It centered around a real jerk who treated his co-worker horribly, see the video below and guess who annoyed me. They exaggerated his character for humor, but it was too real for me. Not to point fingers or make blanket judgments, but teenagers don't need to watch a heavy load of sarcasm, cruelty and disrespect, they have enough of it in their lives. My teens work in a restaurant and find themselves in hostile work environments already. I wasn't that excited about sharing this resource with them. Although they artfully used the plot to teach vocabulary words, it was difficult to get beyond the jerk. I have to admit, as I watched other episodes, I started to enjoy the humor and creativity. My favorite episode is Mad Scientists. I laughed throughout the episodes. I'm glad I continued to watch, because they were very entertaining.

Paperboy loved it and could relate to the humor. He thought it was more exciting than his current program and gave it a thumbs up. Random felt it took too much time to get to the words and felt the definitions would be lost in the distraction of the silly plots. See the example below.
Who would love this product?
I think students that need visual learning could benefit from Vocab Videos. If your family enjoys television programming, you will appreciate the humor and the similarity in the programs. The comedy aspect is terrific. Little Guy was glued to Mad Scientists. I think if I prescreen the episodes, he will have enough to choose from. To be fair, before I reviewed this program, I knew it was not a Christian company and that was fine with me. If you want to see if it is a good fit for your family, you can try it
free
.
Don't just take my word for it, click the banner below to see what other crew members thought about this unconventional method of studying for the English portion of the SAT.
As a member of the Old Schoolhouse Crew, I am given the opportunity to review many home school products. I am not paid or compensated for my reviews, I did receive this product for free in exchange for this honest review.
Thanks for stopping by,