When my son was enrolled in the Defensive Language Institute in Monterey, California, the Gman and I picked up these great t-shirts. On the front is the school logo and this witty saying is on the back. And yes, I just fetched this from the hamper, grin.
I understood what it meant, but never really appreciated the logo until now. Lori White has given me a fresh appreciation for the history of our language.
As a member of the Old Schoolhouse Crew, I am given the opportunity to review many home school products. I am not paid or compensated for my reviews, I did receive this product for free in exchange for this honest review.
King Alfred's English: A History of the Language We Speak and Why We Should Be Glad We Do
Today's book review is King Alfred's English by Laurie White of www.theshorterword.com. I received an eBook which I downloaded on my Kindle app for my iPad. The book is available in hard copy
here
for $14.89. Since prices change, you may want to check at Amazon.com, Rainbow Resource, and Grace and Truth Books.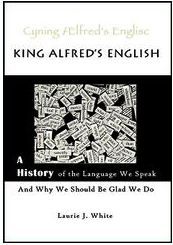 Laurie White spent 5 years working on this book, here she describes why she began this project:
I'm a homeschooling mom (kids are grown) and English major, who initially just intended to write a long article on the history of English. I knew I needed some kind of empty-nest-filler when the last of our 3 children graduated from our homeschool, and I had always wanted to put together something more substantial on the history of English than just the notes from my college class I'd used with my own kids.

I thought it was a shame that this material was usually reserved for English majors when younger students might be fascinated with it too. I knew mine were!
My thoughts:
This books is a delightful, rich read. It offers a brief history of the world and how our language has evolved. She cover the many invasions and the results of each on the English language. While filled with history, her conversational tone and ability to weave in such a variety of facts makes this a terrific supplement to middle and high school English lessons. Paperboy, who loves history will be in for a treat this year. He loves to dazzle others with his various history trivia. This will offer him endless anecdotes. (WE INTERRUPT THIS POST FOR A CONFESSION>>>I am the one who read this book. Contrary to my children's opinion of me, I am a nice mother, who gives her children a summer break from home schooling.) I appreciate how Laurie clearly explained the history of the church and how we ended up with our Bible. Her style of writing is easy to read and is written in short sections. This will make it easy to break down into a weekly schedule using the free student pages.
My Revelations or Ten Things I learned:
The original meaning of the word berserk.
The Grimm brothers didn't just write some cool children's stories, they were philologists.
Philologists are linguists who study written texts.
Why the SAT's are more difficult to study in English.
Who Dolly Pentreath is?
Grammars rules and how I shouldn't be so hard on myself for breaking so many on my blog and in my daily life.
What courriel is and that I have been doing it daily for years.
The English toilets were named after the man Crapper, not the contents of the bowl
A great site for word studies www.etyonline.com.
I have been butchering John Wycliff's name for years, it is pronounced WI-Cliff.
Knowing I sound sexist, but not really caring I need to say this.
This is a terrific book for boys. My boys. O.k. I am sure girls will love it too, but I need to say "Thanks Laurie, you have an understanding for boys and how to teach them, while captivating them."
It's obvious that Laurie has a vision to educate children on the history of English and the Bible. She generously offers teacher and student pages on her
website
to enhance the book. She reccomends movies, websites and resources that complement her book. She even offers chapter tests if we choose to use this a a curriculum for our students, which I highly suggest doing.
SSSSSSSSSS, I have a secret...
If This King Alfred's English sounds like a book you would enjoy, let me know. Send me an email and I will share a secret promotion with my most faithful readers. If you contact me within the next two weeks, I will email you a code which allows you to purchase your own copy at a discount rate.
If you are not yet convinced, see what other crew members thought about Laurie's book by clicking the banner below. It will take you to other reviews on this wonderful history book.
In case you skimmed over my disclaimer...
As a member of the Old Schoolhouse Crew, I am given the opportunity to review many home school products. I am not paid or compensated for my reviews, I did receive this product for free in exchange for this honest review.
Thanks for stopping by,