As a member of the TOS Homeschool crew, this year I am reviewing many homeschooling products that I have received for free. I am not paid to say nice things about the products, but I am obligated to use the products with my boys and share my honest opinions with you. Paperboy and Random were the fortunate participants this time.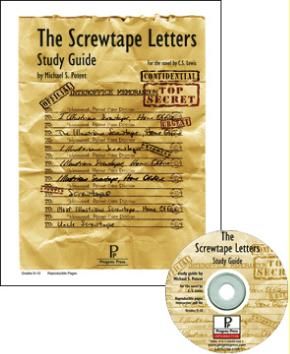 What is it?
Progeny Press has
over
100 study guides for literature, covering kindergarten through high school. Progeny Press study guides concentrate on critical thinking, comprehension, literary analysis, and Christian application. We chose The Screwtape Letters for our study guide. Each in depth guide can be counted for 1/4 of a credit of high school English. You can see a sample of the guide here.
How We Used It?
I downloaded a copy for each of the boys. The guides come in three formats; an old fashioned bound book, a cd of the pdf file and an email attachment of the book with an interactive format. We received the interactive pdf file. This meant that the boys could easily type in their answers on the computer. We then reviewed the study questions and vocabulary together orally.
What I loved about it?
First of all, I absolutely love the book the Screwtape Letters. In my opinion, this is required reading for all Christians. I actually think this study guide would make terrific material for a book group. The questions are meaty and dig so much deeper into the author, the setting and the spiritual truths. The subtle humor of Lewis can at times go over the head of the students, yet the study guide was faithful to probe and let me see if my students really understood what they read. Throughout the study, the students look up scripture and see the parallels between the book and the Word. They are challenged to see what the Word has to say about eternal security, prayer, pacifism, hypocrisy, humility and worldliness.
Each chapter covers vocabulary words, but in different methods. The author has artfully mixed up the ways to learn the new words. There are multiple choice, word search, dictionary definitions verse your own, word boxes and using the words in a sentence. There is no bluffing your way through these answers.
This Progeny press guide is best for upper level high school students. The will be challenged immensely academically. But more importantly, they will grow spiritually.
Don't take my word for it, see what our crew members have to say about this and other Progeny Press guides
here
. You can see sample of other High School guides offered at Progeny Press.
Thanks for stopping by,