As a member of the TOS Homeschool crew, this year I am reviewing many homeschooling products that I have received for free. I am not paid to say nice things about the products, but I am obligated to use the product and share my honest opinions with you.
Today's review is Excellence in Literature published by Everyday Education. Introduction to Literature is the first of a five-year English course for students in grades 8 to 12. This is available from
Everyday Education
as a downloadable eBook for $27. If you must buy an actual notebook, it is available for $29.00 plus $4.95 shipping and handling.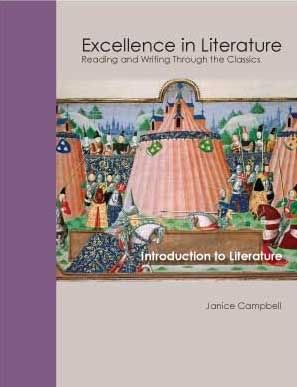 What does this course cover? In the words of Janice Campell, the author:
"Introduction to Literature is a college-preparatory literature and composition course. Focus works, including novels, short stories, poems, and drama, have been selected for literary quality, and for their place in the historical development of literature. Context readings provide background information about the author, the historical period, and the literary and artistic context of the focus work.
Students will gain an understanding of the development of literature and will practice the skills of close literary analysis through essays, approach papers, and other evaluative writing. You may learn more about how I chose the literature for Excellence in Literature in this blog post."
Our experience:
Because of the heavy work load that both my boys are experiencing this year, they only tackled the first chapter. Chapter one included an excellent variety of short stories, including my all time favorite
The Ransom of Red Chief.
Because Random has an online English class already, which happened to be covering literary analysis, he used the same texts. He only adapted his writing to the assignments in his current course. The timing was perfect. Paperboy loved the reading, but struggled with the writing, which wasn't surprising. My hope is to see improvement as we continue in the course.
I must note that the author Janice Campell cares about the success of this program. Her introduction to the program was thorough and written to the student. When the guide recommended other sources which I do not own, I immediately felt frustration as a reviewer. I emailed my dilemma to the author and she quickly replied with encouragement and helpful links.
I have to admit, I feel overwhelmed at the thought of teaching literary analysis to my sons. This course is something we will slowly work our way through this year. This course requires at least an hour a day, carving that out during the past few months was a challenge. My writing phobic son has enjoyed the selections, but will continue to need intensive coaching from his mother. I highly recommend using this with upper level students unless your children happen to have a passion for literature and writing.
Many other bloggers from the crew had the chance to review Introduction to Literature. You can read their reviews and experiences
here
.
Thanks for stopping by,