As a member of the TOS Homeschool crew, this year I am reviewing many homeschooling products that I have received for free. I am not paid to say nice things about the products, but I am obligated to use the product with my boys and share my honest opinions with you.

College Prep Genius: Master the S.A.T. Class
While our children are in the high school years, it is easy for them to get overwhelmed with the amount of activities on their plate. Driver's ed, scouts, church activities, sports, schoolwork, jobs, and volunteer opportunities can take up much of their time. Meanwhile, they need to be preparing to take the P.S.A.T. and S.A.T. tests. College Prep Genius has made it easy for students to train for this important test at home on their own schedule.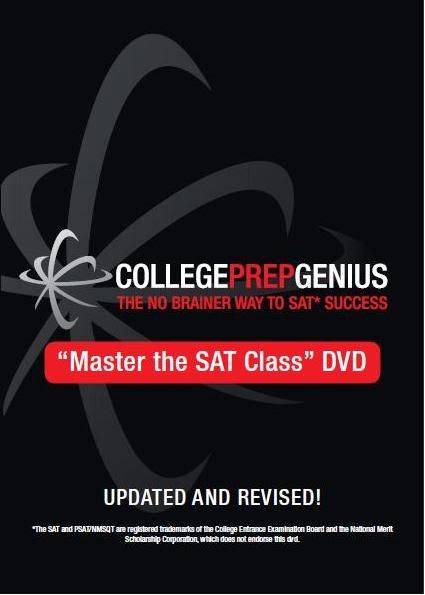 This is not just training our students how to get high scores. It teaches the how, why, when, what and where's of the entire testing process. This very thorough and practical program will give your students the confidence they need as they approach the tests. I wish I had a program like this available to me during high school. Just understanding the philosophy of the tests can help your test-phobic students to face the test with confidence.
After the instructor goes over the ins and outs of the test, the students are encouraged to organize their plan to complete the course. She recommends the students begin this course in ninth grade. I appreciated the way she encouraged
all students
to take the test even if they are not college-bound. Although Paperboy is planning on attending a trade school, the skills he learns in this program can help him in his test to obtain his electrician's licence.
The video below explains how Jean Burk taught her children and hundreds of other students how to ace the S.A.T. tests.
The test taking strategies in College Prep Genius are invaluable. Jean Burk has skillfully developed numerous acronyms to remember the steps to solving the various problems. She has clearly explained the psychology behind the testing procedure. This ingenious method can help any student master the S.A.T. tests. Her time saving strategies alone will arm students with an advantage of more time for the most challenging sections.
College Prep Genius offers a money back guarantee.
The $99 kit includes a dvd with twelve 45-minute lessons, a practice test book and a coursebook. This program would work wonderful in a co-op setting.
The co-op teacher need not be an expert, she could use the videos and sample exercises with a group of students.
I consider $99 very reasonable for this course, considering many S.A.T. prep classes run hundreds of dollars. It is also a program you can reuse for multiple students, you will only need to purchase an additional workbook for $19.95.
I think for the college-bound students, this could be the best use of their money and time for securing college funding.
I have to admit, my boys were not as excited about this program as I was. That's o.k. not everything we do in our homeschool is fun. But this program is necessary and I am happy to have had the opportunity to review it. Don't just take my word for it, see what others have to say about this great program and other products by College Prep Genius here.
Thanks for stopping by,