As a member of the TOS Homeschool crew, this year I am reviewing many homeschooling products that I have received for free. I am not paid to say nice things about the products, but I am obligated to use the product and share my honest opinions with you. In today's review, Little Guy, my nieces, my nephew and I were the product testers...
What is it?
Pig Pile is a fast moving card game that requires 3 to 6 players. The recommended age range is 7 and up. Little Guy had no problem mastering this game.The first time the kids played while I supervised. It was a challenge for them to catch on, but once they did, they were hooked. They loved winning the little rubber pigs at the end of each round. This game is highly competitive, in order to win each round, the players must be planning ahead. Even with great planning, the new card that is drawn can change all of your planning.
SSSHHH Don't tell the kids.
A little math, probability and logic mixed with a little luck and your child is secretly growing their mind. Plus, there is potential for character growth. My family had to forgive, offer help and work on their sportsmanship for this fast moving game. This game is definitely educational in my book. Just learning the rules took a little patience and skill, but was well worth it.
The Party
My nieces were so hooked on playing, they planned a little pig party two days in a row. The morning of the first party, Joannie showed up with pigs in the blanket for all of the players. They were quickly able to bring me up to speed with the rules and we had a fantastic time. One thing about this game, is it can be rather long. Amazingly, Little Guy had no problem sticking with it for two whole games.
I avoided housework in the name of 'blog responsibilities'.
I played fiercely against these young ones, not letting them win.
And I ate one of these pigs-in-the-blanket, before noon.
How can you get your own game?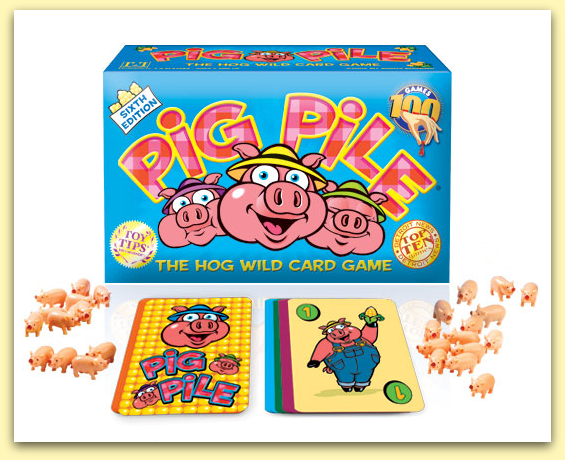 You can purchase Pig Pile from RandR games for $15.95, by clicking here. RandR Games was kind enough to share a 20% off coupon code which is valid
the end of 2011
. If you want to use it simply enter CREW20 at checkout.
I was one of many crew members who tried Pig Pile. Some members reviewed another game by R and R Games called Flea Circus. You can read their reviews here.