Sometimes the mailman doesn't realize the encouragement he has delivered.
As a member of the Old School House Magazine Review Crew, I am given the opportunity to try new products. I am not paid any compensation for these posts, but I do receive the product for free. I am not required to say nice things about the products, which works for me because I'm not good at pretending to like things anyways.
Sabie said: "It's pretty sad that someone has to write a book about having a heart for your kids".
After I accidentally gave the book to my rock star, author friend Jan, I realized the universal appeal of this book. It is written by a homeschool Mother, but any mom could benefit from this book. Jan wants the book back when I am finished.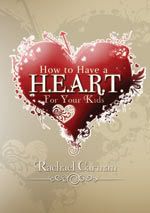 Who wrote the book:
I found this short biography from
her ministry web site.
Rachael Carman is a wife and mother and she is passionate about both. She and Davis have been married almost 22 years and they have been blessed with seven children ranging in age from 5 to 18. She has enjoyed speaking and encouraging women's groups for over 10 years.
What's the book about?
This book is based on Rachael's talk she gives to homeschooling parents. H.E.A.R.T. stands for 5 basic principles to strengthen your family.
Heart for God
Enrich your marriage
Accept your kids
Release them to God
Teach them the truth
Her encouragement is not for the passive Christian. She shares from her experience and gently challenges the reader in their relationship with God, their spouse and their children. I love her heart for the mission field. She is not only down to earth, she has her mind set on heavenly things. I carried this book around for weeks and used it as a devotional, digesting it slowly.
What did I think about the book?
I loved it. It is a book that I will pick up again. Racheal Carman reminds me of some of the amazing women that are in my church. I think this book would make a nice gift for a homeschooling mother or new mom.
One of my favorite quotes from the book is:
"Have you ever thought about what you are living "out loud" in your marriage? Do you live like you actually love your spouse, or even like him? Do you live like you are glad you said: "I do"? Have you thought about the fact that people are watching and learning from your marrage, including your kids, your friends, your neighbors, and even strangers?"
How can you own this book?
This beautiful hardcover book is available from
Apologia Educational Ministries
for $13.00. I feel it is worth every penny. Don't take my word for it. See what other crew members thought about it
here
.
Thanks for stopping by, Terri G.