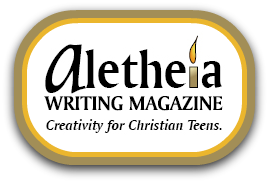 What is it?
Aletheia Writing Magazine is written for and by teenagers. The contributors are Christian teens who are serious about their commitment to Christ as seen throughout their writings. The issues are packed with various stories, poems, articles and challenges for aspiring writers. Their readership is geared to teens ages 13-19. I felt this magazine would appeal to adults who love the art of writing.
At first glance, Aletheia is a sturdy, glossy 40 page magazine. As I started to read some of the contributions, I realized, these are not your ordinary teens. The insight of the writers and illustrators was impressive. They obviously have a revelation of God. Where do they find these gifted teens? The publisher has wisely included writing challenges and invitations to participate in the magazine throughout it's pages.
The drawings and artwork included in the two issues that I read is incredible. The Christian world has no shortage of upcoming artists. Another feature to be noted is the poetry included. As a mom to only boys, I sadly have not had cooperating students as we study or memorize poems. It's refreshing to see that other teens have crafted words and created great poetry.
If you are interested in a Christian magazine to encourage your budding artist, writer or photographer, give them a subscription as a gift. Perhaps they will rise to the writer's challenge included in each issue. The reward of being published in
Aletheia
includes their photo and three copies of the magazine to share with friends and family.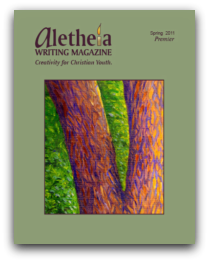 For review purposes I was given a hard copy of the fall 2011 issue and a digital version of the premier spring issue. Based on the two copies, I think this magazine will grow in rapidly with new contributors and subscribers. It is a tremendous opportunity for our children. My only disappointment was in my own boys. After reading it, Random was not inspired to submit something. Paperboy enjoyed the fiction stories, but had no interest in submitting his work.
How can I get my own copy?
To become a subscriber visit their

website

. You can subscribe for $26.00 per year including shipping and handling.
Find out what other crew members thought of this magazine
here
. Don't just take my word for it, read a sample issue
here
.
Thanks for stopping by,
Terri G.