When I think of bootcamp, I have vivid images of a psychotic man screaming at me to run faster, calling me a maggot and me losing 20 pounds in 8 weeks. Maybe that's not such a bad idea compared to the uncertainty of my life lately. But, the truth is, I did voluntarily sign up for bootcamp a few months back, with confidence that there will be no screaming, running or weight loss. My bloggy friend
Lori
and I will be waking up way before most normal people on Saturday morning and driving to Boston. Bloggy Boot Camp, which is sponsored by the Sits girls is sure to rock our blogging world.
Today, I found myself wide awake at 5:40 a.m. obsessing on what am I wearing? Laptop or no? Can I possible squeeze in a hair appointment today with my new most-excellent hair stylist? Eyebrows, too? Then I realized, I never blogged about Boot Camp. I shot out of bed and the Gman thought there was a fire. There is sorta.
What is Bloggy Boot Camp (BBC)?
Bloggy Boot Camp is a one day blog and social media conference for women hosted in major cities all around the U.S. In a time when blog conferences are growing more popular, Bloggy Boot Camp remains one of the most convenient, inexpensive and co-operative events around. Everyone, from brand new bloggers to experienced social media mavens, can benefit from this experience.
Does Bloggy Boot Camp involve exercise?
No. Unless you count belly laughs.
Who will be there?
In addition to you, all types of women attend, ranging from brand new bloggers to seasoned pros. We also have been fortunate to host PR representatives, brand managers, and some of the most influential leaders in social media today. Whatever the location, there is always something new to learn and someone fabulous to meet.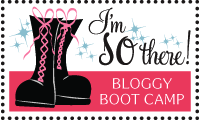 This is going to be an all day event talking about one of my most beloved topics.
Blogging
. I had a taste of some blog talk last weekend with Linda, who has
two
blogs
at Mass Hope. I wanted to talk with her for hours. I just felt terrible that my BFF Shirley was patiently waiting in the lobby to go home.
I starting thinking after I signed up for bootcamp, I never read a schedule, an agenda or knew who was speaking. That was some serious faith. I trusted
Shell
in her endorsement and just planned it. I was hoping to find some sponsors, I put my best effort into that, only to find out my #1 sponsor, babysitter and cheerleader is non other than
the Gman
. Thanks to my wonderful husband, who thinks I am crazy to write about
home schooling
,
home orthodontics
,
snow monsters
,
tight-waddery
and
marriage
. I think his rationale behind supporting this
hobby
obsession of mine is that it keeps me out of the mall and I have less time for online shopping. I will
keep blogging dear
.
I'm expecting to become more enthusiastic about my blog. I'm sure there will be many light bulb moments and a few duh, head slaps. Start looking for changes to my blog as I learn from the pros.
I appreciate everyone who reads my blog, thanks for stopping by.