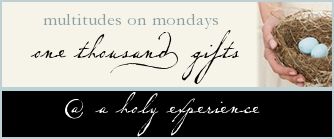 For months I have seen many great bloggers sharing their gratitude on their blog. I have been reading One Thousand Gifts by Ann Voskamp. I couldn't resist starting my list. I keep it in my purse, and jot gifts down whenever I can think of them. I decided not to copy them here, but share the immediate things I am thankful for.
The cardinal that continued it's fashion show today.
The ability to learn new things and those who are patient to teach me.
Teenagers who still give hugs, even the 'Christian side hugs'.
Boys talking about math together.
Seven year-old boys and their zeal to pick dandelions.
The husband who picks up the loose ends.
The homeschool friends I have collected over the years.
A washer and dryer, laundry to fold and clothes to choose from.
Cuddling and reading to my Little Guy.
A skilled surgeon.
The gadgets that make my life easier.
Proverbs and the clarity they bring.
Adult chocolate.
I have endless things to be thankful for. You are cordially invited to share your list in the comments section below or on your blog. I'm joining with other thankful blogger over here.
With google thanks,