I watched Magdalena: Through Her Eyes yesterday morning, in place of my Bible reading.
All I can say is "Wow!"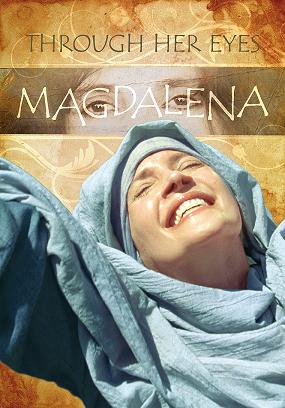 Well, that's not really true, I am never short of words.
This isn't just a movie about the life of Jesus.
This is about the effect of Jesus on a life
.
I can relate.
This fabulous film is produced by Campus Crusade for Christ. You cannot watch this movie and be unaffected. Through the viewpoint of Mary Magdalena and others you see so many faces of Jesus and
the way he treated women
.
Some facts about the film.
Written, directed and produced by women for women. Visit the original movie website for the full story.
Filming began in 2006.
Premiered at the United Nations, March 2007, for the International Day of the Woman.
Shown in more than 42 countries to date.
Over 70 languages available and counting. Call 1-800-432-1997 for information on other languages.
This isn't just a movie. It is a tool.
You can use it for a small group Bible study, an outreach, or for personal Bible time. Included with the movie is a study guide and links to several resources to ehance this movie.
The website
Magdalaea Today
includes:
I'm not going to retell the story. You know the story, but just like reading the Word of God, you can discover new things each time. The film's directors have done a fantastic job of re-creating the moment. There were so many underlying issues that the story deals with; self-righteousness, prejudice, hatred, being ashamed of the Gospel, faith, and pride are a few.
If this sounds like a movie, you would love to share with others, this is a perfect time. Especially, if you know someone who only thinks of Jesus at Christmas or Easter. This isn't just a chick flick. When Random watched it, he was glued to it.
I am giving away one Dvd of the movie, Reflections of Hope Bible Study, "Women's Ministry Leader" event marketing materials to one blessed reader. I will choose a winner on Saturday, April 16th. There are a few things to do to enter.
First Entry:
In the comments, tell me you would like to win.
For additional entries, you can share this on Twitter, by email, on Facebook or on your blog. Because I believe that you wouldn't lie to me to try to win a movie about Jesus, I'm going to trust you. You don't need to share the link with me. Just let me know you did it.
For an extra entry, in the comments, suggest a great way to use the movie. Hosting a ladies movie night is my thought. And if I do, you can be sure I'll blog about it.
As always, read the fine print:
"Disclosure of Material Connection: I received one or more of the products or
services mentioned above for free in the hope that I would mention it
on my blog. Regardless, I only recommend products or services I use personally
and believe will be good for my readers. I am disclosing this in accordance
with the Federal Trade Commission's 16 CFR, Part 255: "Guides Concerning the
Use of Endorsements and Testimonials in Advertising."
Thanks for stopping by,