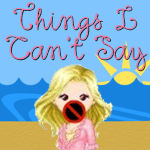 Today I am linking up with Shell at Things I Can't Say. Stop by and see where bloggers enjoy group therapy. I feel better already.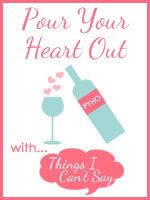 This is not a pity me post, let's get that out of the way. God has shown Himself strong in my life at this time. I have a joy right now that I can only be explained as God's grace. I haven't felt the need or want to verbally vomit my problems on my friends, I love them too much for that.
If you know me in person
and
you happen to know my current situation, I need to inform you that you are being a colossally rude when you invite me to your home party to buy books, jewelry, kitchen products, and candles or any other overpriced items.
I am going to assume it must have slipped your mind. You didn't remember. My husband is in the middle of a career change which involves no income for a few months, while dealing with major medical issues. You're asking me to leave him home alone with the kids for a night, so I can buy ridiculously expensive things. So in turn, you can get free stuff that you don't really need.
I'm happy for your home party fun, but please leave me out. My feelings won't be hurt if I found out what an excellent time you had without me. In fact, you inviting me, makes me uncomfortable. It makes me wonder if you know me or what my life is all about right now.
When I do feel like loosening up my purse strings, I'll head down to the Christmastree Shop and drop $2.00 for a really nice smelling candle. I'll have to pass on the $30 one right now.
Another thing, I promise I won't invite you to my home party, because I don't inflict them on my loved ones. I repented of that years ago.
Tomorrow, we will return to our regularly scheduled cheery blog.
Actually, this post fits in nicely with
Thrifty Thursday
. I may just repost it.
Thanks for listening.