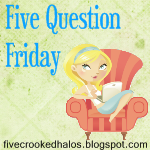 It's Friday again?
This day keeps coming up, like every 7 days? Time flies.
If you want to play, hop over to Mama M.'s. and link up.
If you don't have a blog yet, leave your answers in the comments.
I'll share my blog.
1. W
ho is the better cook, you or your spouse?
That's laughable! There was a time when I was dating the Gman, he actually owned and used a crockpot. That was before post-ring amnesia syndrome set in. Gone are the those days. I am sure if he became hungry, he may cook well enough to survive. I am not claiming to be a good cook, just a better cook then he.
2.
How often do you talk to your mom?
My mom passed away in 2008, so I don't talk to her. Before that it was a few times a day.
3.
Are you adventurous in the kitchen or stick to the recipe?
I am usually adventurous when I am too lazy to run out and buy something that I need. I do like to try new recipes when I have company. I know that's crazy, but I need new guinea pigs since I am surrounded by the meat and potatoes, don't let the food touch gang.
4.
Is your second toe longer than your big toe?
Yes, and it a sign of great intelligence.
5. Do you dress up for Halloween?
No, but I may dress up this year. Our church is having a Bible character contest. I'll be helping out at the party and I may want to join in the fun. Little guy needs a prop, the walls of
Jericho
. I may be a gray wall. Don't laugh, my boys won last year as the 10 commandments. Originality can help at my
church of overachievers.
Have a great weekend, I feel some honey do lists coming on. I hope the Gman is ready.
I welcome reader comments with open arms. I also understand if you aren't the commenting or hugging type of person, you can drop me an email at accidentallyhomeschooling@gmail.com.