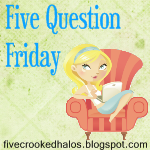 This is taken from
Mama M.'s
Rules for Five Question Friday: Same as always!! Copy and paste the following questions to your blog post, answer them, then c'mon back and link up (on Friday!). If you don't have a blog, but wanna play along with the coolest blog hop in town, feel free to leave your answers in the comments below!
1. D
o you feel guilty spending money on yourself?
Of course I feel guilty when I spend money on myself. Right now there are so many pressing financial needs, that I can't splurge on myself without feeling terrible. In fact, I can think of a time when I so wanted to splurge, but the practical side of me won out.
A few weeks ago, I accidentally dropped my cell phone in the pond. It drowned. Yeah! This was my chance for the upgrade. I have wanted the iPhone forever. Thankfully, Verizon doesn't support it. But wait, there's the Droid, which I have lusted over for about a year, which my very cool Dad owns and actually has learned how to use. Now is my chance.
BUT NOOOOOOOO.
Common sense prevailed. I got the phone that's free with a rebate. It still is way nicer than my drowned phone. It has a keypad, so sending a text won't take longer that handwriting a 3 page letter. So at times guilt can be a good thing. Plus were are approaching the Anniversary, Christmas, Birthday, Valentines Day gift giving nightmare season, in which my husband is known to splurge.
Let him bear the guilt.
2.
How well do you know your neighbors?
Get the violins out. We moved into a really nice neighborhood a few years back. This is a challenge to me. Why? They manicure, pedicure and decorate for every season. So my front yard is... what it is. They probably don't care, but the contrast is there. So we worship different things. Now, we are weird homeschoolers who live and play in our backyard which looks fabulous.
When one of my neighbors came in the back for the first time in a while, he said "Wow!" He was visibly surprised. I told him "We're not into fronts." And I meant it. In all areas of my life. So I know my neighbors enough for a friendly "Hi" and that's about it.
3.
What age are you looking forward to being?
I am not really looking forward to any future age. I just experienced an unsettling event at my Post Office. A very confused woman was trying to explain some gibberish to a total stranger. It was obvious, she had memory loss and/or dementia. I admit, I am frightened of old age. But, being someone who is a lifelong learner, I intend to fight the good fight like my pal Sabie. Exercise, work, challenging puzzles, Omega oils, reading, and prayer to head off the aging mind.
4. Do you get excited when the mail comes? Why?


I do get excited. I ignore the bills and look for the packages. I shop online and I am a reviewer for The Old Schoolhouse Magazine Crew. That means packages arrive. It's like Christmas. O.k. I guess I am a little kid when it comes to this. I do let my boys run out and bring in the mail.
5. What is your earliest childhood memory?


I remember before we moved to my childhood home. I only remember 2 silly things. My oldest brother threw his peanut butter sandwiches near a tree outside a barn and the crib I slept in. It had lambs on it. I just saw one recently at a thrift shop and couldn't believe they still existed. Yeah, it was a while ago like a lot little more than 18 years ago.
HAVE A FUN WEEKEND! I will be spending Saturday shooting some Confederate soldiers with Paperboy and Little Guy. Look for an upcoming post about the battles
.
I welcome reader comments with open arms. I also understand if you aren't the commenting or hugging type of person, you can drop me an email at accidentallyhomeschooling@gmail.com.