We just finished a s'more party and I am finally getting around to posting this.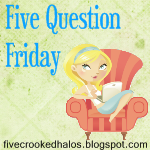 I haven't played in a while, but I do love this meme. If you want to play, head over to Mamma M.'s and copy the questions, fire away. If you don't have a blog, I'll share mine. You can answer the questions in the comment section. You never know, you could win a prize, I've been known to reward readers with a
used
beloved book.
1. D
id you have a favorite blanket or toy as a kid? If so, do you still have it?
NO, I didn't. I did have
a favorite doll
which I blogged about, that got lost in the lake that I still think of once in a while. But I am not bitter.
2. Do you dream in color?
I am not sure about this one, but my dreams are filled with action, emotion and usually some major conflict. At times, when I am trying to fight off the bad guys, the Gman has to wake me up and help me. He always seems to know when I am losing the fight. Thanks honey!
3.
How tall are you? 5' 6" Do you wish you were shorter or taller?
I wish I were taller. If I could stand it, I would wear 6-inch heels. I just love my ankles too much to attempt it.
Tall = skinny to me.
4.
If you could have
anyone's
(celeb or other) voice as the guide on your GPS, who would it be?
Leonard Nemoy or James Earl Jones. Then I may actually take them serious and follow the directions.
5.
Do you return your shopping cart to the corral or leave it wherever in the parking lot?
About an hour ago, I returned it to the corral. That's because my shopping trip was without kids, o.k. I was desperate. It was 85 degrees and 100 percent humidity. My trip was a combination of: I need quiet time and I need some air conditioning right now. If the kids are with me, they put it away for me.
Have a great weekend!
I welcome reader comments with open arms. I also understand if you aren't the commenting or hugging type of person, you can drop me an email at accidentallyhomeschooling@gmail.com.