Earlier I was pondering the mythical denim jumper gang. I almost blogged about them, but I had a blog interrupted moment. Lori, you read my mind.
I just noticed I was winner on one of my favorite blogs!!!! Really, I already was a winner just reading her fun blog. In fact, she is the hostess of the fun game I play on Fridays. Five Question Friday!!
This is straight off of MamaM.'s blog.......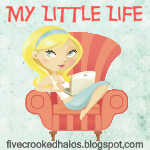 Now, I have to take a moment to tell you about this blog. This blogger is a nurse with five kids. She has a gift for blogging. I just realized she is a new blogger, this is her first year. Wow, she really has found her gift in life, she's making it look too easy. Of course, I am feeling a little special that I actually won something from her site. Poke around her site and see some of her posts, better yet swing by on Friday and play five questions. I know I overused the word fun, but really it is a fun blog!
I'm feeling lucky, I may have to enter some more blog give aways.
~TerriG,
Who has added to her birthday box!
I welcome reader comments with open arms. I also understand if you aren't the commenting or hugging type of person, you can drop me an email at accidentallyhomeschooling@gmail.com.