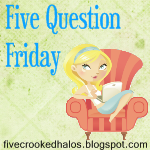 I have been visiting blogs avoiding housework again and I just figured out I don't know how to describe who I am. So many bloggers have impressive interests and hobbies. They make music with instruments, create things with fabric and travel to places that I cannot pronounce. I have only dabbled in these things, if I mention them, I would feel like I was dishonest. Or I could say in two weeks in October 2009, I helped my son create 50 pillows. My doings are not life-lasting obituary accomplishments or hobbies. Which not to be morbid, but I have thought about my obituary. I told the Gman please don't mention my jobs, or some sport. I just want to be known as 3 things: Christian, Wife and Mother. I know for my feminista friends, they would like me to raise the bar a little. But hey, I make them look better.

What are friends for?

So what I really want to say is: I am happy it is Friday. This is my official War and Peace version blogger bio. So if you stumbled here by accident and are wondering who am I? Five question Friday will help you get to know me better. 1.
Do you sing karaoke? If so, what is your go to song?
2. What is your favorite coffee drink?
3. If you could choose your own name, what would it be?
4. Were you ever bullied?
5. How often do you eat fast food? I am leaving these separated so my other blogging friends can copy and paste. Then link back to MaMaM. to play! Come on you

know

you want to...and you

know

who you are.
1.
Do you sing karaoke? If so, what is your go to song?

I love my family, friends and the world way to much to go there. But if I was held captive by the Taliban, I would be sure to sing often to torment my captors. Perhaps this would be the key to my release, a little Anne Murray, 'Nobody Loves Me Like You Do.'
2.

What is your favorite coffee drink?

Cinnamon Hazelnut with cream and sugar. Made at home every morning, aggressive thrift no! I take that back, leaving the house to get coffee would be aggressive. Active thrift.
3.

If you could choose your own name, what would it be?

Celeste. Now way before the pizza became popular, I loved this. I

always

knew I would name my little girl this. Then I married a guy that has a serious opinion about names.

In the interest of marital harmony, I was blessed with only boys

. Wait that sounds too weird. That sentence can only be taken in context of this entry.
4.

Were you ever bullied?

O.k. before I answer this, promise me you will keep following my blog. I mean, like all 10 of you. I don't remember being bullied. I do remember bullying. Yes, I was a brat. I can blame it on my childhood, I was the only girl. But enough excuses, I did it and I am not boasting. That was before Christ. God has forgiven me, I am

trying

to be nicer.
5.

How often do you eat fast food?

Rarely now. I used to live off of it. My boys are very disappointed in me because of this. In the words of BennyG

and

Calvin and Hobbs. "My polls have gone down." Yes, I would be a one-term mom in this area. It's all my fault. We used to visit so often. Wendy's was the drug of my choice. When MattyG was a toddler his first coherent word was "chicken" cried as we drove past Wendy's. My deliverance came when we started the Feingold diet. I have indulged a few times, but is was not worth it. Little guy still begs for it, but I am practicing passive thrift. Passing by saves money.
Thanks for stopping by.

TerriG